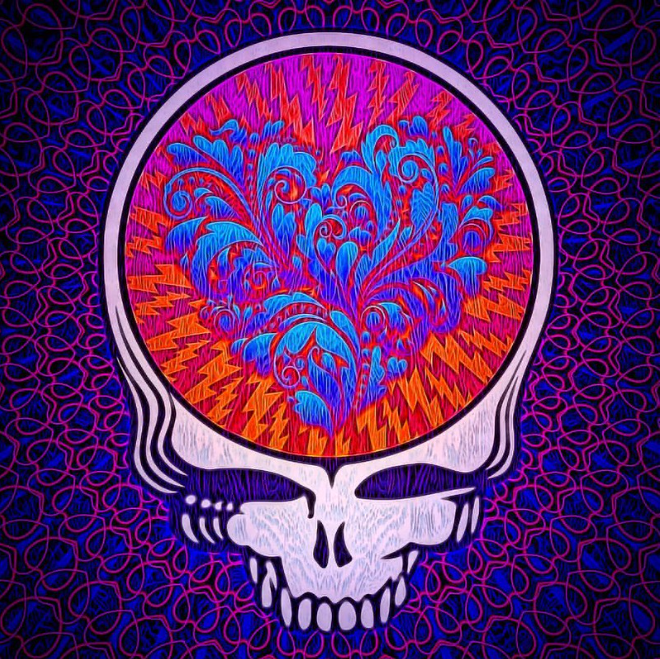 Concert of the week in Grateful Dead history:
April 23, 1977, Springfield Civic Center, Springfield, MA.
Without love in the dream it'll never come true.
Ask any Deadhead what period represents the apex of the band's touring career and the Spring 1977 tour will inevitably be cited. Much like references to the "seventh member" of the six-piece band being present during a particularly outstanding show, there was a seventh member quality to the magic of the 30 shows the Grateful Dead played in the Spring of 1977. Beginning April 22nd at the Spectrum arena in Philadelphia (a venue the Dead played 53 times), culminating with three fantastic shows at Winterland Ballroom in San Francisco, June 7th, 8th and 9th, this tour featured material from the soon-to-be released "Terrapin Station" album. Some speculate that the highly polished nature of the tunes on that album, like Estimated Prophet and the epic Terrapin Station suite, which fills the entire "B-side" of the record, was reflected in the more finely rehearsed sound the band achieved during this tour.
Each year, I look forward to warmer spring weather, which enables me to spend more time on two wheels reliving the Spring '77 tour. This week I will be especially looking forward to the second show of the tour, the April 23rd show at the Springfield Civic Center in Springfield, Massachusetts, my choice for T.W.I.G.D.H. Having been at the debut of the Help on the Way/Slipknot/Franklin's Tower medley at Winterland on June 17, 1975, this piece has always been one of my favorites. The April 23rd performance was one of only five times it was included in the set list during the Spring '77 tour, and the second of only seven times it was performed all year, leading to an absence of more than five years until it was resurrected in 1983.
Although a decade had passed since the 1967 "Summer of Love," the Grateful Dead continued to carry the torch for the principles of the Anti War/Hippie movement into this tour (and well beyond), and the pivotal sentiment expressed within the exquisite poetry of Help on the Way follows suit with the more famous expressions of that period, such as the Beatles' "All You Need is Love," and the Youngbloods' "Get Together" ("Try to love one another right now"):
Without love, day to day, insanity is king.
It has often been said that there are only two primal emotions, love and fear, and that these two strange bedfellows are more intimately related than logic might suggest. This assertion has been supported scientifically in the way that the hormone, oxytocin, is produced both in times of love as in times of fear. But what is also true, as articulated by world renowned psychiatrist Elisabeth Kübler-Ross in her essay, "When You Don't Choose Love You Choose Fear," is that there is only love or fear, meaning that a choice must be made. 
Wars are the result of choosing fear. At the risk of oversimplifying, in the case of the Vietnam War we acted out of fear of Communism, specifically what was referred to as the "Domino Theory," by which if one nation became Communist, its neighbors would fall, like dominoes. This fear-based idea was used as a means of justifying global U.S. intervention, resulting in the deaths of millions.
The Anti War movement represented an alternative to the "insanity" of the Vietnam War, and offered love as a better alternative to fear. Whether or not the movement succeeded is not the point, so much as that love will inevitably arise as an alternative to fear, and all that's necessary is for enough of us to choose love over fear to achieve the "paradise" that "waits on the crest of a wave." The question at hand is: Can we build a big enough wave? 
The choice of love over fear is one that we also confront on a personal basis, determining whether we achieve our individual dreams. When I turned sixty, I had a dream of not only continuing to do the things I loved doing, but to devote myself to them more fully than ever. Realizing that we are, in the words of Joni Mitchell, "captive on the carousel of time," I was fearful that I would increasingly find myself less able to climb hills, ride trails, play baseball, run a small business, play guitar in my band, and have the energy to be a good husband, father and friend. Fear washed over me, as I imagined a life in which I was unable to do those things, and more, due to the aging process.
What I've observed is that most people succumb to those fears as they age, falling back on the all-too-convenient self-exonerating alibi: "It's not my fault that I had to give up (fill in the blank); I'm older now, and I have to be realistic about the things I can't do anymore." That's what happens when we allow our dreams to be swallowed up in a sea of fear. But there's a different choice to be made: loving ourselves enough to "rage against the dying of the light," as the brilliant writer, Dylan Thomas, urged in his famous poem, "Do not go gentle into that good night."
Ask yourself this key question: What am I willing to do, to sacrifice, to endure, in order to live my dream?
In the Shakespearean play, Richard II, these words of wisdom are spoken about the prospect of going into battle: "To fear the foe, since fear oppresseth strength, gives in your weakness strength unto your foe." For those of us who are aging (which includes all of us, but I'm primarily addressing those 50 and older), the "foe" is "Father Time," and we are heading into what will prove for most of us to be the greatest battle of our lives. Living in fear of the consequences of aging, weakens us as we engage in this battle.
Regardless of our age or the battles we engage in, though, it is vital that we choose love over fear. But in this context we're not referring to the love of another; the love that's needed to help fulfill our personal dreams – and by extension our dreams of a more peaceful, just world – is self-love. 
Cultivating self-love enables us to shift our focus to questions like: What do I appreciate most about myself? And, what ingredients enrich my life and make it worth living? These are the kind of things you must be willing to fight for, even if it means changing deeply established habits. This is what you must turn up the volume to protect and defend, even while it becomes a little bit harder with each passing year.
I encourage you to identify your passions and question whether you love yourself enough to safeguard your ability to maintain and even expand them, regardless of your age, and perhaps even because of it. Then ask yourself: Am I willing to "pay, day by day, anyway, lock, bolt and key" to overcome fear and live the life that reaches for my highest potential?
Living in a world that is far too often fear based makes choosing love a formidable challenge, but it's empowering to know that if there is "help on the way" it will come from within us in the way that we "love what (we) love" and because we "want it that way."
In the words of the Youngbloods' anthem of the Sixties, Get Together:
Love is but a song we sing/Fear's the way we die.
You can make the mountains ring/Or make the angels cry. 
Concert of the week in Grateful Dead history: April 23, 1977 (Listen Now)
Subscribe and stay in touch.